Situated near Vivek Vihar metro station, Yesterday I went to this recently opened roof top restaurant. Being a roof top, Ranglaar offers capturing view of colourful decor on one side and metros moving on the other side. The ambience is light and friendly.
It has a separate seating arrangement on the lower floor and rooftop lounge and bar. Ranglaar also has discotheque. It's a great place for friendly banter and evenings with special someone. The staff is courteous and serves food on time.
Dishes at Ranglaar
Ranglaar serves you Indian, Italian, Chinese and Mediterranean food in both Vegetarian and non vegetarian options. It serves you very common and popular dishes in the above mentioned cuisine soothing to the taste of Jaipurites.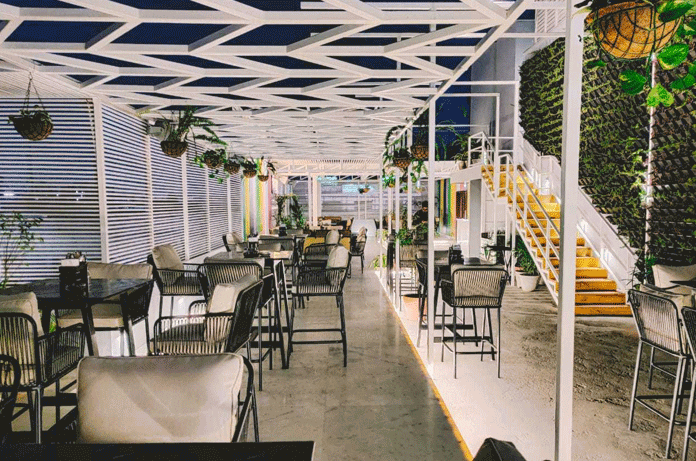 Being a frequent visitor to Jaipur rooftops I chose Ranglaar on a friend's recommendation. I enjoyed the evening with a dear friend at Ranglaar. True to it's name, the restaurant does have a colourful decor and vibrant walls. It's a canvas of myriad shades. The walls looks like a mind of a painter ☺ a pallete of hues! I chose to order Indian dishes and it didnt disappoint me. I ordered spring rolls and Shashlik kebab in starters. Spring rolls were crispy with exact tangy flavor. Shashlik kebab was delicately prepared. It was soft and succulent. The kebab was juicy to the core. I further ordered kadhai paneer along with butter naan and tandoori roti. The food was not too spicy. The aroma of kadhai paneer was mouth watering. The paneer tasted fresh and real. I was glad it didn't taste synthetic and stale. I finished the delicious meal with all time favourite sweet Gulab Jamun. The Gulab jamun was spungy and fresh! It elevated my mood. Over and all it was a very good experience at Ranglaar. The weather was nice and the food was mood elevator. The attentive staff made it a pleasant experience. You must visit rangeela Ranglaar and you will not be disappointed.