Nainital is popularly known as the gem of Uttarakhand for the city of lakes it is a mesmerizing hill station which sits in the lap of the Himalayas. Nainital is located around a beautiful Naini lake after which this beautiful town is named.
Best places to visit in Nainital
Nainital is a perfect and top list weekend getaway for people in North region nearby Delhi or maybe to the nearby places.
This beautiful town was found in the British era and due to the resemblance of the Cambrian Lake, district Nainital have beautiful colonial structures that amplify the beauty and the Greek exposure of this place. The pleasant climate throughout the year makes Nainital one of the best choices especially for the tourists. It is preferred for family vacations and honeymoon as well. There are various popular tourist activities which one can do in Nainital like boating in Naini Lake or maybe tracking around the mountain region. It is not only just popular for its trekking but for its architecture, local market, and beauty.
Nainital is also famous for its local delicacies. It is famous for its Tibetan market. The beautiful roadway ride will soak you into the beauty of the town and Himalayan beautiful snow points will take you in the mesmerizing dreams. When I visited Nainital, I visited Nainital yacht club. They take a minimal charge and you can sail your own yacht! One cannot miss visiting the Naina Devi temple. It is situated right above Naini lake. I also visited Jama Masjid. It is a mosque built in 1882 by Britishers for Muslims residing in Nainital.
It is among the best tourist places especially in December. You can see people on the street enjoying the winters in beautiful snow with serene street lights. Nainital is surely going to leave an imprint on the minds of people who have visited there. The tourist will have a long-lasting experience on the mind while they visit. Nevertheless we should not miss the momos as they are extremely delicious and mouth-watering.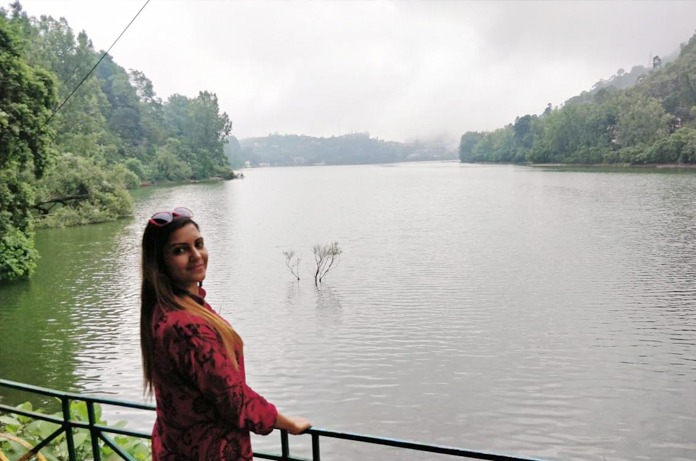 It is the perfect summer treat for those who can't stand the summer heat in their region. I once visited Nainital in the winter season too and I was not disappointed. It rained like pearls on a marble. That holiday was nostalgic.
This beautiful town is also famous for its educational institutions such as Saint Joseph College and many more which have created renowned personalities.
Nainital is famous for its religious importance based on ancient proverb that it is the place where Goddess Sati's eye (Nain) fell down when Lord Vishnu cut her body in 52 pieces. The spot where Sati's eyes (or Nain) fell, came to be called Nain-tal or lake of the eye. The goddess Shakti is worshiped at the Naina Devi Temple, known by locals as Naini Mata Temple on the north shore of the present-day lake.
Nainital has a flourishing wax candle industry from the nineties. It offers you a wide range of candles to shop from the local market. You get to choose from wide range of decorative candles so if you love shopping for candles. It will be silly to miss this opportunity.
The Mall road of Nainital is always filled with local products and cultural artifacts to choose from. They are available at affordable prices. Local market contributes to major income of the citizens here. You get the best of woolens from the Tibetan market. So don't miss to shop from local market here.
Nainital is just the right place for adventure seekers. Among the travelers, Nainital is a preferred choice for trekking.  It is the most adventurous sports for the adventure freaks. Nainital still stands at the top list for trackers as it offers around 7 to 8 hours of rigorous trekking experience on the altitude of 2611. It is a 3 km long trekking way which usually trekkers start in the early morning so that they can enjoy the campfire in the evening under the clear sky filled with stars. It is my favorite destination for peaceful holiday. I enjoy the local cuisine of Nainital and love the early morning view from my hotel. 
Further I went to Mukteshwar, 50 km further to Nainital. It was approximately one and a half hour drive to Mukteshwar. It is a hot spot for trekking, rock climbing and adventure sports. I enjoyed visiting waterfalls and got mesmerized by the landscape Mukteshwar has to offer.
If you are a nature lover, you must visit Nainital at least once.