Plenty of buffet places are opening up in Pune and BBQ OnFire Kharadi is the latest entrant.
What makes them stand apart is their Live counters for both Veg and Non-Veg.
They have outdoor and indoor seating arrangements. Each table has the provision to place the BBQ grill in which the veg and starters are served.
The Starters comprises a mix of delicacies, ones that can be grilled and ones that will be directly served on the table.
The menu changes daily and the spread will vary for lunch and dinner. And there will be the difference in the items served on weekdays, weekends and on special occasions/events.
We went to BBQ ONFIRE Kharadi for dinner tasting on a weekend and our menu was as follows –
BBQ Non-Veg
BBQ Chargrill Chicken (on the grill),
Tangdi Mumtaz,– Chicken Angara (on the grill),
Crispy Chicken Sesmi,–
Prawns Kalimirch (on the grill).
BBQ Chargrill chicken was average. The marination was not strong and the chicken was quite dry and chewy.
Tangdi Mumtaz, Chicken drumsticks marinated in yogurt and spices. They were perfectly grilled, mildly spicy and quite tender.
Chicken Angara, many places confuse it with making chicken very spicy especially with high quantities of Garam Masala. B. Chicken Angara should be a fine blend of various spices like Garam Masala, chilly, coriander, and turmeric. And BBQ On Fire Grill gets the combination right. Unlike the chargrill, the Chicken Angara was moist and tasted really good.
Crispy Chicken Sesmi for us was t Chatpata Bhutta,
he best non-veg starter on the table. Deep fried and crispy Boneless chicken strips coated with sesame seeds and marinade. This was different than the usual crispy sesame chicken that we have in the Chinese cuisine. The marinade was not sweet and had flavors of Red chili, ginger garlic.
Recommended.
Veg Starters – Paneer Khada Masala,
Haryali Mushroom,
Aaloo Papdi Tikki, Veg Wanton,
Sweet Chilly Family Pineapple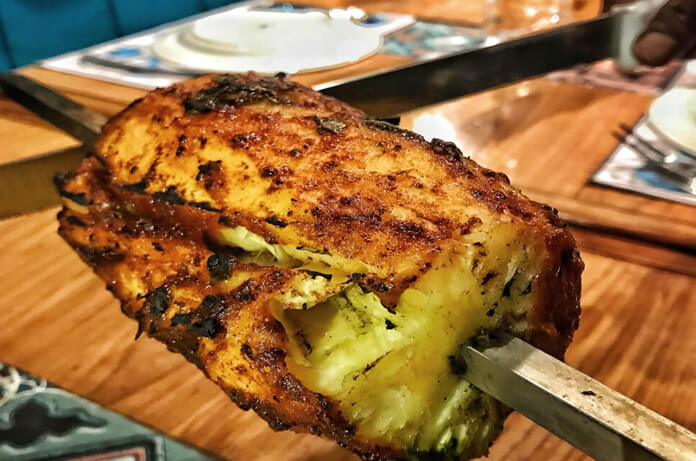 The live counters are in the indoor seating area. There are live counters for Veg, Non-Veg, Chaat, and Jalebi.
The Chat counter serves – Gol Gappa, Sev Puri, Bhel Puri and Dahi Papdi chat. These are made on order and one can customize as per their taste. We tried the Gol Gappa and they were nice. The Puris were fresh and crisp with generous fillings of Sev, Nukti, Onion and green chutney. Paani was medium spicy with distinct flavors of tamarind chutney, chili, chaat masala, and green chutney.
Veg Live Counter
Non-Veg Live Counter at BBQ ONFIRE Kharadi
The veg and non-veg live counters comprise of a huge tawa (separate of veg and non-veg) with various tawa fired delicacies to try with. We went for the non-veg tawa counter. They had Fish Fry, Kheema Pav, Kaleji Kidney, Squids, Roasted Chicken, and Prawns.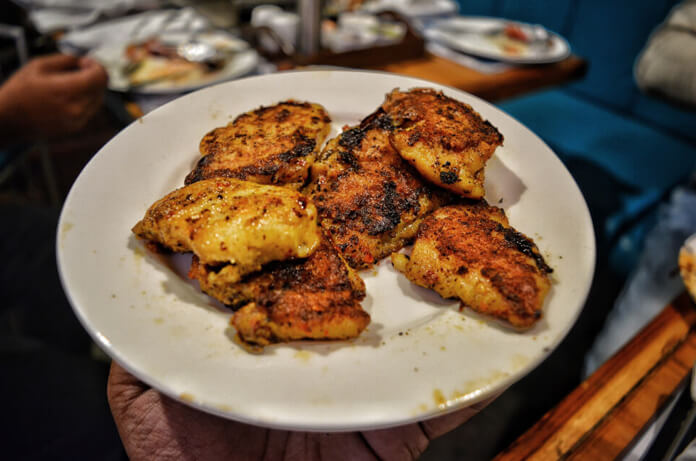 Fish Fry was really yummy. Well cooked (shallow fried) large chunks of boneless fish.
Kaleji Kidney was outstanding. Kidneys have distinctive, strong flavors that people tend to love or hate. Cooked in tawa with spices, onions, and tomatoes. This one at On Fire BBQ is truly recommended.
Squids is my personal fav after prawns and there are not many places in Pune where they serve Squids. The Squids served here were cooked in BBQ sauce and tasted yummy
Kheema Pav needs no introduction. The kheema was juicy but not with too much gravy. It was dry enough to be enjoyed with pav. Cooked with onions, tomatoes, ginger garlic and a blend of whole spices. The spices were perfectly calibrated so that the flavor of the mutton dominating the dish.
The non-veg main course had Chicken Handi, Prawns Curry, Fish in black bean sauce and Chicken Dum biryani.
Chicken Handi – We liked the fact that the gravy was not very thin. There were large and soft chunks of chicken. Tasted good with crispy tandoori roti.
Prawns curry was nothing extraordinary. Prawns in red thick hot gravy and because of the heat the prawns got a little rubbery. Can be given a miss.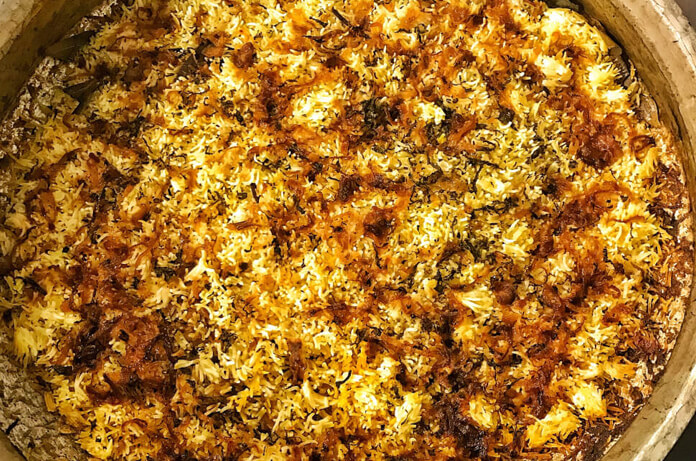 Chicken Dum biryani – Instead of keeping the biryani with the buffet spread, they kept in a separate vessel (Dum) the biryani on a separate counter. We were too stuffed to savor it but it looked good.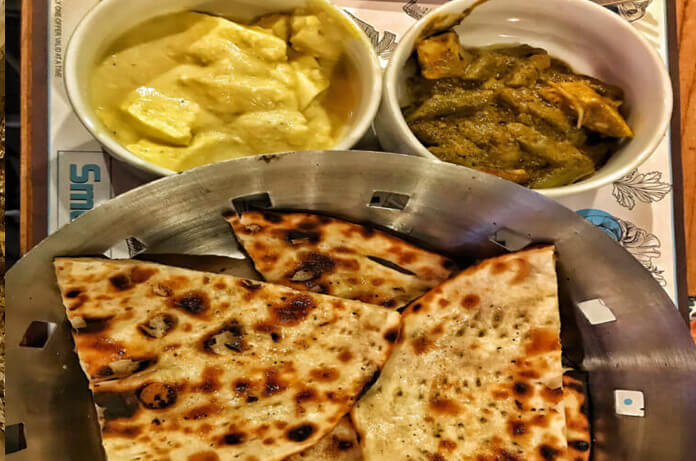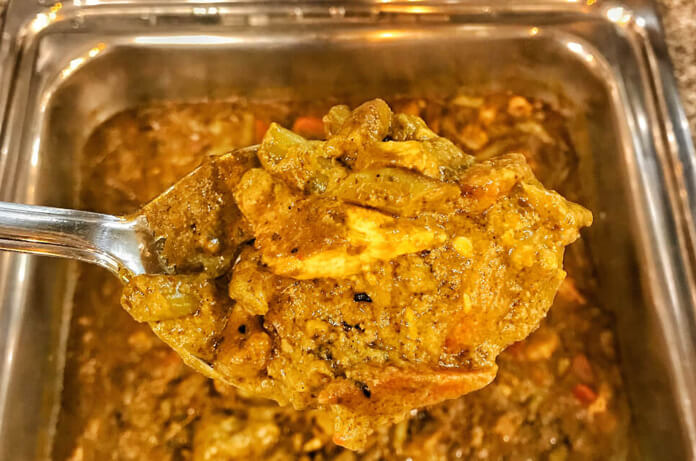 For deserts, the Spread comprised of –
Gulab Jamun with ice cream, Moong Dal Halwa, Assorted Pastries, Mousse, Rabdi-Jalebi, and Kheer.
We tried their Rabdi Jalebi.
Jalebi is available at the live counter and freshly prepared in-house. They top it with Rabadi and this combo serves as a perfect dessert. Rabadi was not very sweet and hence went well with the sweetness of Jalebi.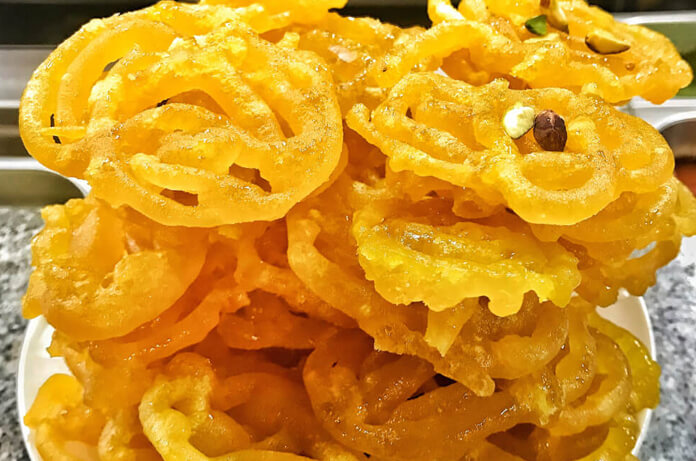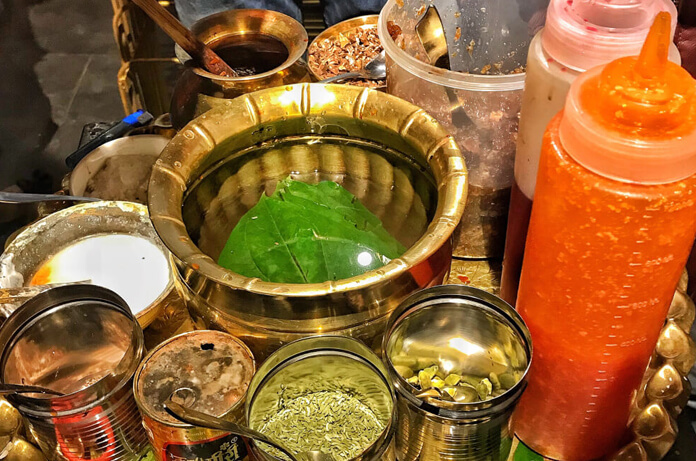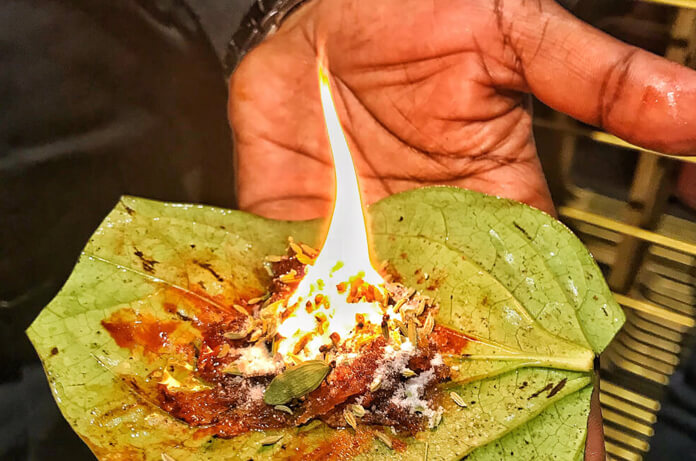 At the exit, they have a Paan counter, where they serve an On Fire Paan which is made on request. They add a little camphor to the Paan and lit it on fire. Do try it, it won't burn your mouth.
At BBQ OnFire Kharadi , your main focus should be on their BBQ starters and their Live counters. They have plenty to offer in that section.
Since it is a buffet system, the menu may not be the same every day. It may change on weekdays and weekends (lunch and dinner).
It is always nice to have a good variety of food at a fixed price and thus, the place justifies its concept.
Overall Rating : 4/5
Cuisine : North Indian, Mexican, Chinese, Continental, Oriental and BBQ
Cost for two : 1200 for two
Timings : 12 pm to 3:30 pm and 6:30 pm to 11 pm
Address : BBQ OnFire Kharadi, 7/8, Tower 3, WTC, Kharadi, Pune, Maharashtra, India
For Reservations contact : 072198 20088
Disclaimer: This review is based on experience we had during a food tasting event. There are chances that you may have a different opinion about the same place.
** Read more aboutTwinkle Patodiya