AULI:
It is not necessary that you go to a hill station in summer. Its experience is even richer when you visit a hill station in winter. If you are planning a vacation, then you can go to Auli. This hill station in Chamoli district has more footfalls of tourists in winter than in summer.
Auli Garhwal is a popular tourist place located at an altitude of 9 thousand feet above sea level near Joshimath in district Chamoli. The view of the beautiful hills and forest can be seen around here. Auli is one of the most famous skiing destinations in India that is why this place has attracts both tourists and adventure enthusiasts. Apart from skiing, you can also see mountain ranges like Nanda Devi, Mana Parvat and Kamat here.
 If you are travelling by car then about half a kilometer before reaching Joshimath, a road leads to Auli, by which you reach Auli after travelling for about 16 kilometers, the road passes through the jungle and winding hills. It can take you 40 minutes to go through the rolling hills. There is no bus service to Auli, but private taxis are available from Joshimath.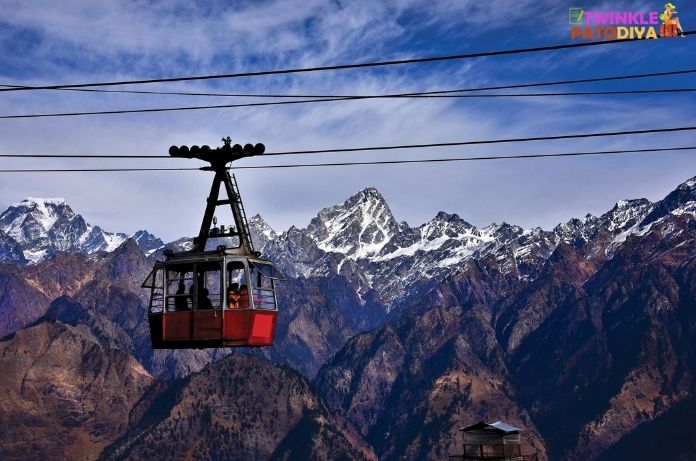 The ropeway is also well-equipped to reach Auli. Its speed is considered to be faster than the rest of the ropeways in the country. It reaches the upper end of the slopes, passing through a dense forest of cedars. Due to the height it seems as if you are flying in the middle of the cloud. With this, you can see the snow-covered hills even remotely with the help of binoculars. If it is sunny, then the Himalayan mountains look like it has been spread around cotton.
Auli is one of the most beautiful places in Uttarakhand, surrounded by snow-capped Himalayan hills, tall oak and high cedar trees, lush green meadows and slopes of mountains with a height of 2 thousand 519 meters.
Auli Artificial Lake, Auli Ropeway, Joshimath, Gurso Bugyal, Nanda Devi Peak, Chattrakund, Chenab Lake, Auli Ski Resort, Trishul Peak Vishnuprayag, Kwani Bugyal, Saildhar Tapowan, Valley of Flowers, Nanda Devi National Park and many more are some of the Tourist places in Auli.
Blue sheep is found in the high Himalayan snowy area here. It is known as Bharal. The blue sheep has 70 inch long horn which is quite large. It has been made a mascot in Winter Sports which are to be held in Uttarakhand. The Winter Games Federation of India has made it a mascot, considering the ability of Bharal to live in the icy terrain and the quality of a skier.
Best Place to stay in Auli
Garhwal Vikas Nigam has built a guest house which has about 110 rooms. It is convenient for all budget types. The Indo-Tibet Police also has a restaurant here. By the way, cottages and huts are also available for staying purpose. If you want, you can also visit Joshimath to stay after visiting here. Joshimath has many hotels and guest houses.
How to reach Auli
The nearest airport to reach Auli is Jolly Grant near Dehradun, 273 km from Joshimath. The nearest railway station is Haridwar, which is located at a distance of about 299 km from here. So, it is preferred to travel by own vehicle.
Best time to visit Auli Although you visit Auli 365 days of the year, but since Auli is famous for snow skiing, if you also want to go to Auli with the intention of skiing, then the time between November and March will be the best. Due to heavy snowfall between December to February, the climate here is very cold.