Tea Trails, Pimple Saudagar, Pune as the name suggests is a place to be if you love Tea. This brand has already marked its presence across the country with 30+ outlets, serving and spreading same fragrance and trails of tea, that too is a short span of 4 years.
Head Chef Anish Deshmukh and his team have laid out an extensive menu after a strong research, which lets this brand serve more than 84 varieties of gourmet teas from across the world and thus it makes a unique experience for tea lovers. Apart from tea, they serve good varieties of quick bites, mains, and desserts. Here at tea trails, they have made a special combo of food and drinks which they call Tea Food Pairing. They also do home deliveries for most of the items, except their special teas.

Recently they arranged tasting and feedback session during Pizza and Waffle Festival for Pune Food Bloggers, and gladly I was also a part of it. For which I visited one of its outlet situated at Pimple Saudagar. This store is owned by 3 Mechanical Engineers, Mr. Sanjay, Mr. Rupesh and Mr. Vinod, who always wanted to cater something basic but unique in itself. We were hosted by Mr. Sanjay and Mr. Devendra, who manages all outlets across Maharashtra.
So, let's begin
Bubble tea is a special section on the menu which serves flavored bubbles within the flavored tea cooler. These bubbles when raptured in the mouth, leaves a touch of the flavor behind. If you want bubble blasts with every sip then this one is not to be missed.

This comes from the section of Iced tea and is a fusion of Sangria and Tea. Healthy and Tasty.
Another section named Tisanes, which is meant to have a herbal base had different offerings out of which we tasted Red Zen. This is a blend of hibiscus and berries, brewed for 3 minutes, which gives a mix of sweet and sour flavor.
Yes, you read it right. For a place specializing in tea and related beverages, Tea Trails also has a section of some really nice Milk Shakes and Cold Coffee is one of them. And must say we were not disappointed. They steep coffee for 8 hours and then use the brew in Cold Coffee making it taste really good. They also serve South Indian Kapi.

GULKAND BUN MASKA
For most of us, tea and bun maska has always been the perfect combination and keeping the same in mind Tea Trails is serving 5 types of bun maska, of which we tried gulkand bun maska. Traditional bun maska layered with gulkand fills the mouth with a buttery flavor and then ends on the sweetness of gulkand. This combo was yummilicious.
Sandwiches
SMOKED COTTAGE CHEESE SANDWICH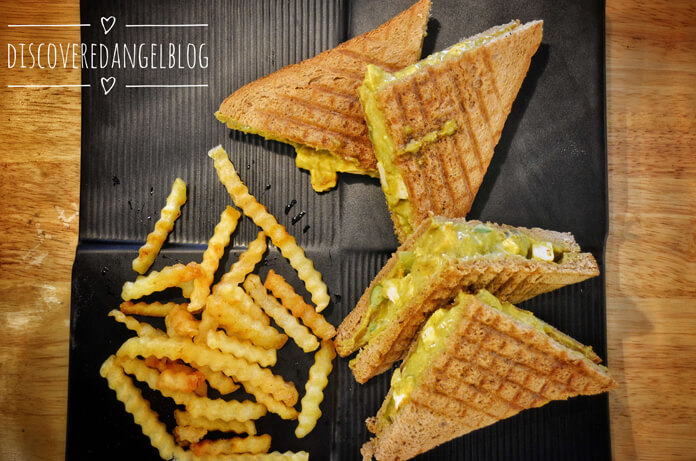 PANEER TIKKA SANDWICHES
In sandwiches, we tried Smoked Cottage Cheese and Paneer Tikka Sandwich. Both were grilled, with options of having them in brown or white bread. They are served with French Fries and pickled veggies. The stuffing of paneer was quite filling and both tasted really good. My favorite was Smoked Cottage Cheese Sandwich dressed with barbeque sauce.
Will be visiting soon to try out their non-veg sandwiches.
Pizzas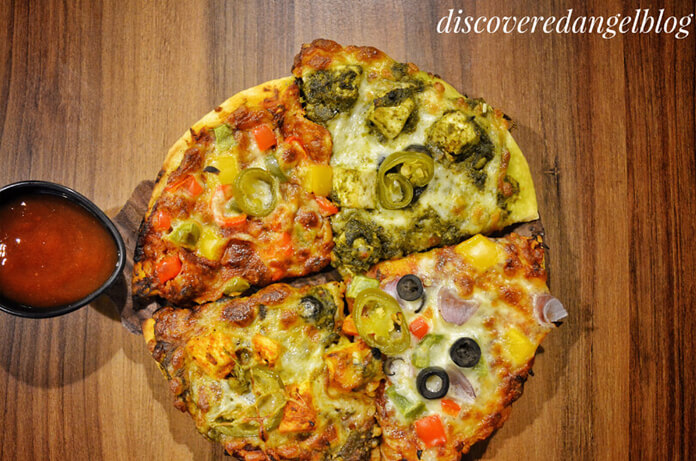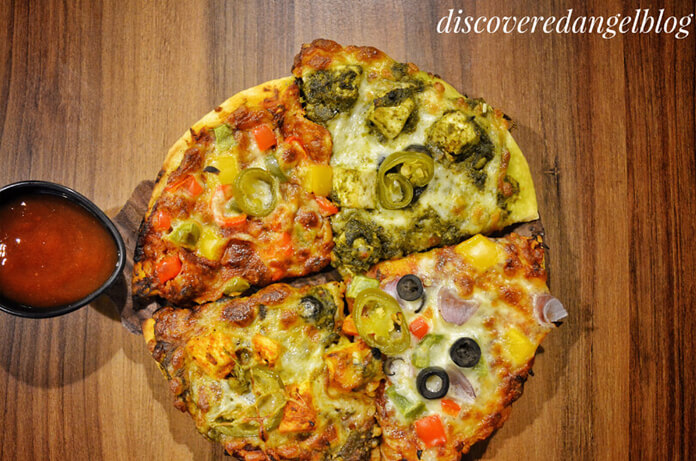 VEG PIZZAS
We tasted:
Mexican Pizza
Veggies Blast
Pesto Paneer Pizza
Paneer Tikka Pizza
Tea Trails serve fresh dough pizzas, which makes them stand out in comparison to other similar outlets serving pizza and other baked products. Usually, they serve all pizzas in small size and thin crust but can serve thicker crust on order. As a veggie lover my favorite as Veggies Blast.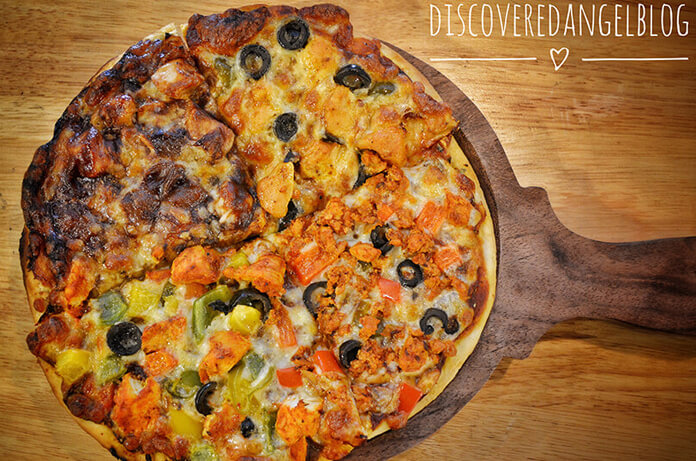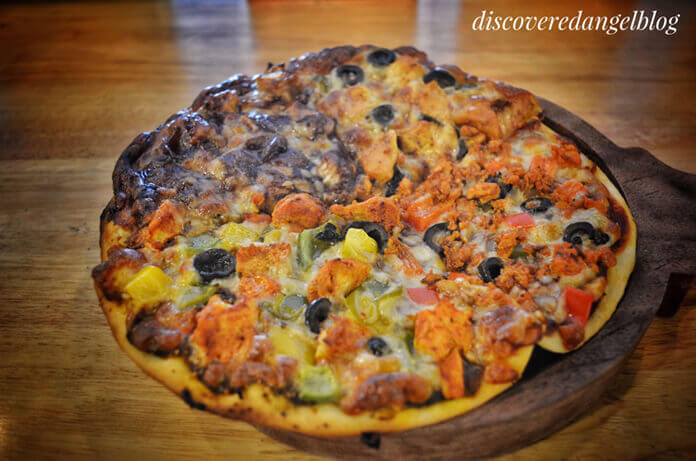 We tasted:
BBQ Chicken
Kheema Special Pizza
Chicken Tikka Pizza
Non-Veg Extravaganza
Like the veg variants, the non-veg pizzas were also freshly dough and baked well. The toppings were infused as part of the baking process that made them blend well with the dough and cheese.
Chicken chunks were in good quantity, enough to satisfy a non-veg lover. 🙂 The ones that stood out for me were Kheema Special and Non-Veg Extravaganza.

Tea Trails, Pimple Saudagar Experience
The craze for waffles is picking up in Pune and tea trails to have recently added them to their menu. The waffles we tried were a little thick and were made of chocolate, had a crunchy covering and softer inside. Nicely presented, delicious waffle was topped with assorted seasonal fruits and vanilla ice cream. This one was quite filling and because of the fruits, the sweetness was balanced.
And with this, the tasting was ended on a sweet note.
Overall experience was good. Manager, Mr. Niranjan took very good care of the presentation and timely service. Staff was well informed and helpful. Compact cafe with bright lights was for me a good place for casual hangouts. Do share your experience in the comments section below.
Disclaimer: This review is based on experience I had during a food tasting event. So there are chances that you have a different opinion about the same place.

Follow me:
Follow me:https://www.instagram.com
Snapchat: @discoveredangel
Facebook Page:Twinkle Patodiya
To know more about me:Twinkle Patodiya
Tags: food, Food Blog, Food Blogger, Food Style, Foodgasm, foodie, Foodporn, Healthy, Lifestyle Blogger, pune, punefoodie, Tasty