Talking about the ambiance, they do have indoor as well as open air seating spaces which are very well furnished and comfortable. Since I went for lunch, we preferred to the lounge space which is same Pub area at Blackout, Jaipur. And yes! They put up live match screens as well at time.
Hello my Lovely Social Media Fam!! Like most of the other people I also carry a usual belief that pubs are for 8pm and onwards. And so I have been to this place, Blackout, Jaipur for more than countable times for Saturday Nights. But this time I was invited over lunch and I was really excited to experience the Service and food quality – so lets see was their food was as magical as thier Dj Nights are!!
So let's begin how the Chefs can pamper your taste-buds here:

As a regular order for me LIIT is always first n favorite drink to validate mixing at the any of the good Bars. And subsequently we also tasted Popcorn Old Fashion, Cosmopolitan, Mexican Beauty and Virgin Mojito. Out of all served my favorite here was my usual favorite, but Popcorn Old Fashion was also a different and good experience.
Blackout, Jaipur Best Pubs in Jaipur
Blackout, Jaipur Best Pubs in JaipurCosmopolitan
Blackout, Jaipur Best Pubs in JaipurPopcorn Old-Fashioned
Blackout, Jaipur Best Pubs in JaipurMexican Beauty
Blackout, Jaipur Best Pubs in JaipurLong Island Iced Tea
Blackout, Jaipur Best Pubs in Jaipur Virgin Mojito
Love for Chinese and spicy sauces made me order Honey Chili Potato for the starter, which is a good option to go at this place. This saucy and crispy delicacy was served in good quantity and so is sufficient for 2 people. And the best part was even after 30 minutes of serving, this wasn't soggy.
Being a foodie I am always in dilemma of what to eat because I want to taste everything one the menu, but diet is always a constraint. So, platters come as a straight answer to my mind for this concern. As the name suggests, Multi Cuisine Platter was a full sized platter sufficient for 2 people. Very well plated exactly as shown in picture above, drooling with different flavours Soya Chaap Fries, Paneer Bhurjee Tacos, 65 Pitas, Mushroom Cheese burst along with 3 different condiments. This is something you should really not miss!

If you have been following me from long, you must be very much aware how much I love pizza with Loaded veggies.
Blackout's Harvest Pizza was is a treat for veggie lovers, topped with mushrooms, bell pepper, tomatoes, olives and onion it is delight for every vegetarian pizza lover. Thin Crust, non sticky cheese, no soggy base….what else can one ask for!!
A great option for lunch food? Yes, It is like totally. I could literally eat their food every day.
Overall it was a delightful experience and I feel Blackout, Jaipur is totally keeping their standards be its a Party Night or a Lunch Date! Be it ambiance, food or wide and innovative bar options, I totally loved every bit about it. And I would definitely recommend this place to every reader.
Food: 4/5
Service: 4/5
Ambiance:4.5/5
Overall: 4.5/5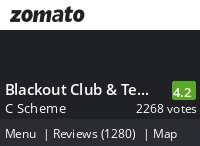 Blackout, Jaipur Address
D38A, 8th & 9th Floor,
Golden Oak Hotel, Landmark Building, Ashok Marg, Ahinsa Circle,
C Scheme, Jaipur, Rajasthan 302001
Follow me:
Instagram: https://www.instagram.com
Facebook Page:Twinkle Patodiya
To know more about me: Twinkle Patodiya
Tags: #blackout, #breakfast, #dinner, #foodlovers, #fun, #lunch, #nightout, foodie, india, jaipur, Music, party, rajasthan