Blackout Jaipur, Who doesn't want to refresh their mood after a days hard work. And nothing is better than an good food and an happening party.Isn't it?
But you don't want to spoil you mood and want to spend a great day with your close ones. Here is a great option for you.
Here I am goingto share my views with you. And want to tell you about an amazing place.
Blackout Jaipur
Blackout is a club which is located atAhinsacir, C-scheme (Landmark- Oak hotel). They provide an eclectic menu of delicious multicuisine but the costs are a touch bit on higher side.
The wooden décor, comfortable seating with dim lighting gives this place a country look and welcoming vibe.
Choose 'Desi Bruschetta', 'Mushroom Cheese Burst', 'Chicken Malai Tikka' and 'Roasted Garlic Cheesy Bread' for flavoursome appetizers. For mains, can try 'Thai Green Curry Tajine', 'Butter Bomb', 'Murg Mutton Lababdar' and 'Rajasthani Laal Maas'.
Inside Blackout Jaipur
Blackout club ambience
They have indoor as well as an open air seating spaces which have a modern and comfortable seating arrangement. Apart from this they also put up live match screens as well.
Blackout club is a very relaxing place which allows you to unwind and sit back during a happening setting. This one among its kind lounge has quickly earned the reputation of being the most well liked destination in town when it involves partying.
Done beautifully with cushy chairs, dim lighting, roof top setting and an ideal ambiance, the place is certainly worth a visit once you want to relax together with your friends after an extended , tiring day at work.
Blackout club food
The menu of Blackout Jaipur and terrace is a delight for each foodie with a superb sort of both vegetarian and non-vegetarian dishes.
Their most famous dishes are chicken Manchurian, chili paneer pizza, mutton lababdar pizza, and tandoori paneer lasagne.
You can order Honey Chili Potato for the starter, which is a good option to go at this place.
This saucy and crispy delicacy is served in good quantity and so is sufficient for 2 people. And the best part was even after 30 minutes of serving, this doesn't be soggy.
Drooling with different flavours Soya Chaap Fries, Paneer Bhurjee Tacos, 65 Pitas, Mushroom Cheese burst along with 3 different condiments. This is something you should really not miss.
Food for diet conscious and veggie lovers
Being a foodie you alwaysin dilemma of what to eat because you wanted to taste everything from the menu. Agree or not? but sadly diet is always a constraint so, platters come as a straight answer to your big problem.
As the name suggests, Multi Cuisine Platter is a full sized platter sufficient for 2 people. Very well plated.
Blackout's Harvest Pizza is a treat for veggie lovers, topped with mushrooms, bell pepper, tomatoes, olives and onion. It is a delight for every vegetarian pizza lover. Thin Crust, non-sticky cheese, no soggy base. And what else can one ask for?
Food or wide and innovative bar options, you will totally love every bit about it. And I would definitely recommend this place to every foodie out there.
Blackout Jaipur Drinks
As summer is around the corner you also wanted to fill your throat with some refreshing drinks. Blackout Jaipur's LIT is worth tasting if you really want to enjoy the summer season.
They also provide Popcorn Old Fashion, Cosmopolitan, Mexican Beauty and Virgin Mojito. But out of all, LIT here is great.
Blackout night life
This epic nightclub in Jaipur is one among the simplest party places where you'll dance your heart out. Blackout club and terrace is famous for its stunning rooftop seating and an extravagant floor.
You'll also enjoy sports screening and live music during this club.The club also offers a variety of exotic drinks including champagne, wine, vodka, rum, and scotch.
Blackout club and terrace is open till 2 am on weekdays and 4 am on weekends, to increase your enjoyment of its nightlife.
Overall it will become a delightful experience and personally I feel Blackout Jaipur is totally keeping their standards, be it a Party Night or a Lunch Date.
How to choose a perfect club
You might be trying to find an area to celebrate an enormous moment, sort of a birthday, promotion, or maybe a bachelorette party. you would possibly be trying to find an area to require your office for a team building night out.
For the simplest club experience in Albuquerque, go no further than The Salt Yard. With a secure , fun, and friendly atmosphere, a superb drink and food menu, and entertainment to beat all else, it's the simplest spot for the night out you've been hoping for.
Alternatively, you'll just be looking to detach some steam with friends and therefore the club scene is completely your jam. While these are all great reasons to settle on the nightclub life.
It's also important to notice that every of those reasons could be best suited with a particular quite nightclub. Not all nightclub scenes are an equivalent , and what works for the bachelorette won't be the simplest choice for the office party.
Drinks
Clubs are typically about the drink. So make sure you scout out the cocktail menu to form sure the nightclub in Albuquerque has everyone's preferences.
Is your group into craft beer? Margaritas? Cosmos? confirm the club you check out has those on offer. And at an inexpensive price, alternatively the night goes to conclude way timely.
Food
However, you shouldn't forget to see out the food menu, too. You would possibly be there for the drinks, but it's definitely worth knowing there are savoury snacks, too.
Location
If you are a night party lover then make sure you've got close access to transportation to home.And confirm the world round the club is safe. You don't want to possess to stress about any of your friends once they exit for a smoke break or to hail a cab.
Did you ever visited this place? Feel free to share your experience of Blackout Jaipur with me in the comment section below. And read our other café and club reviews. If you don't want to spoil your great day.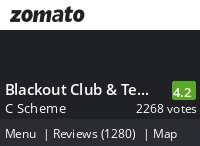 Blackout, Jaipur Address
D38A, 8th & 9th Floor,
Golden Oak Hotel, Landmark Building, Ashok Marg, Ahinsa Circle,
C Scheme, Jaipur, Rajasthan 302001